App Requests
The App Requests feature allows your users to make a proposal for an application which should be added to your Enterprise App Store (EAS).
The Appstore Manager can review the requests and approve or reject them. If the proposed app is approved, it is moved to "Release" state and made visible for all App Store users.
Requesting a New App
Apps can be requested both from the Relution app and from the administrator portal.
Navigate to Apps > App Store and press the Request App button located in the menu on the left.

Choose the target app store in the prompt and press Next.

Search the desired app by typing its name, select it and press See Details.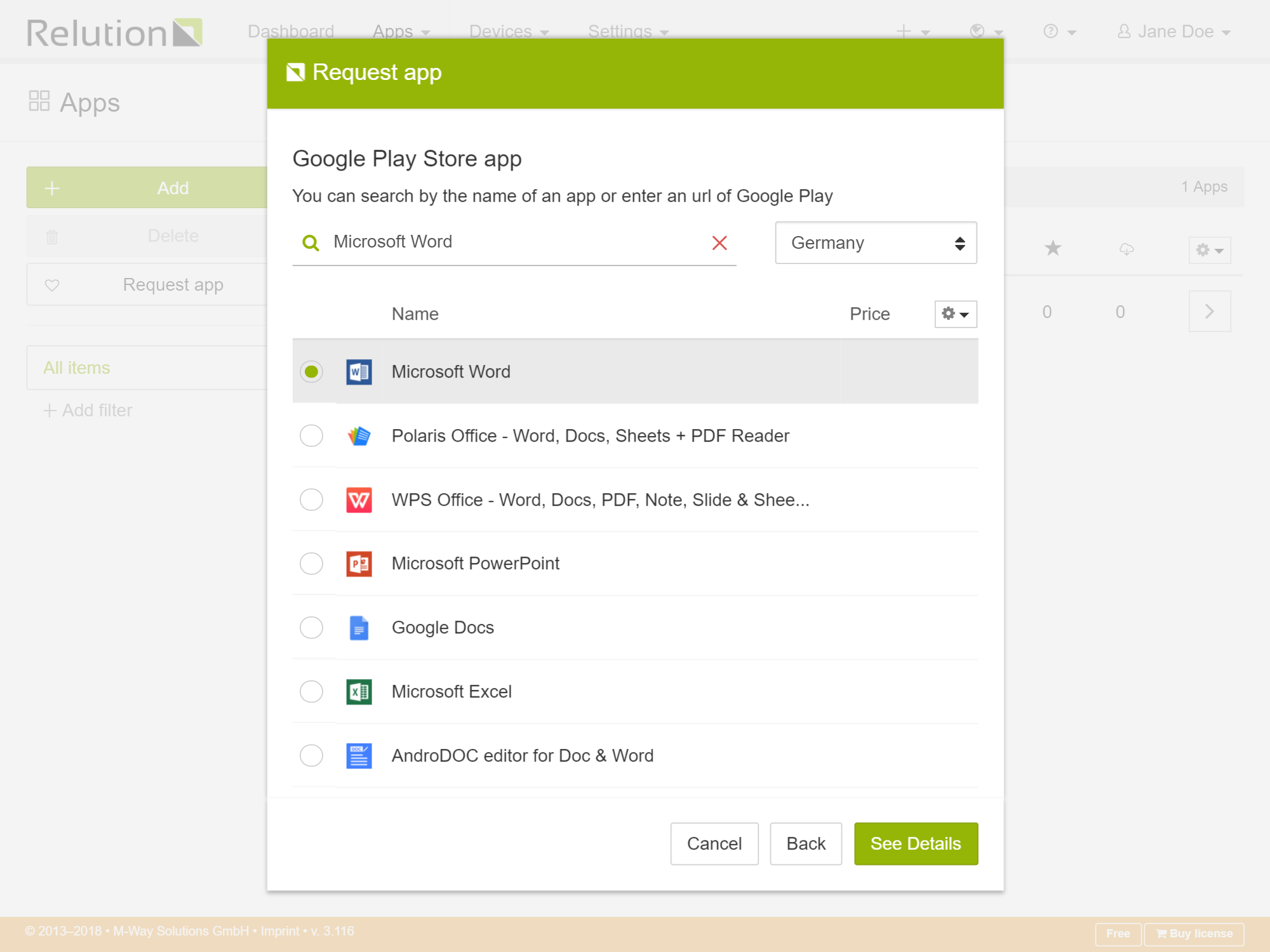 Optionally, you can provide a reason why you are requesting this app.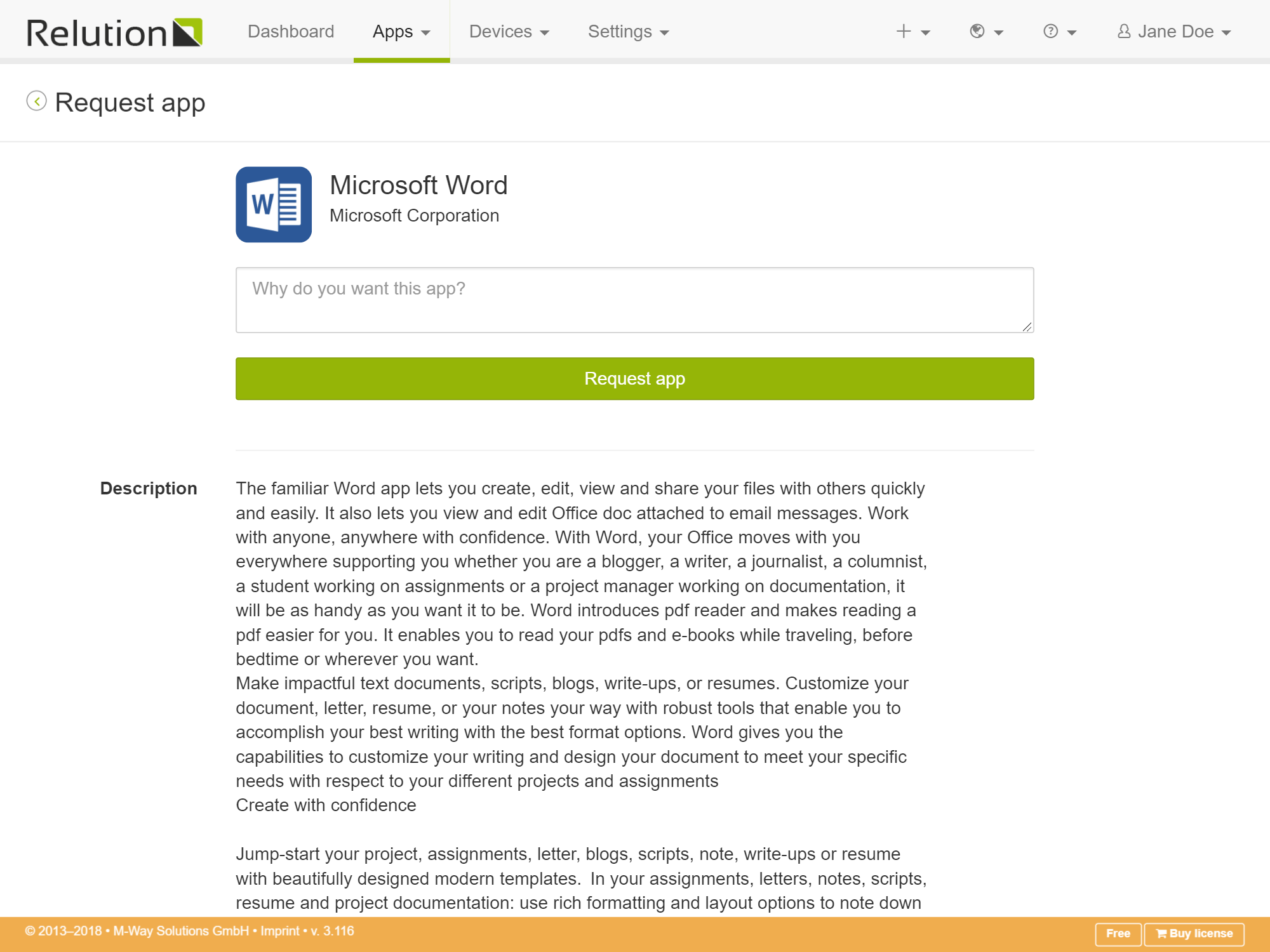 Confirm your app request by pressing the Request App button. The administrator will be notified about the request and can then review the proposal.
Reviewing App Requests
| | |
| --- | --- |
| | Logged in as "Administrator" or "App Store Manager". |
Navigate to Apps > Requests to see all apps that users have requested.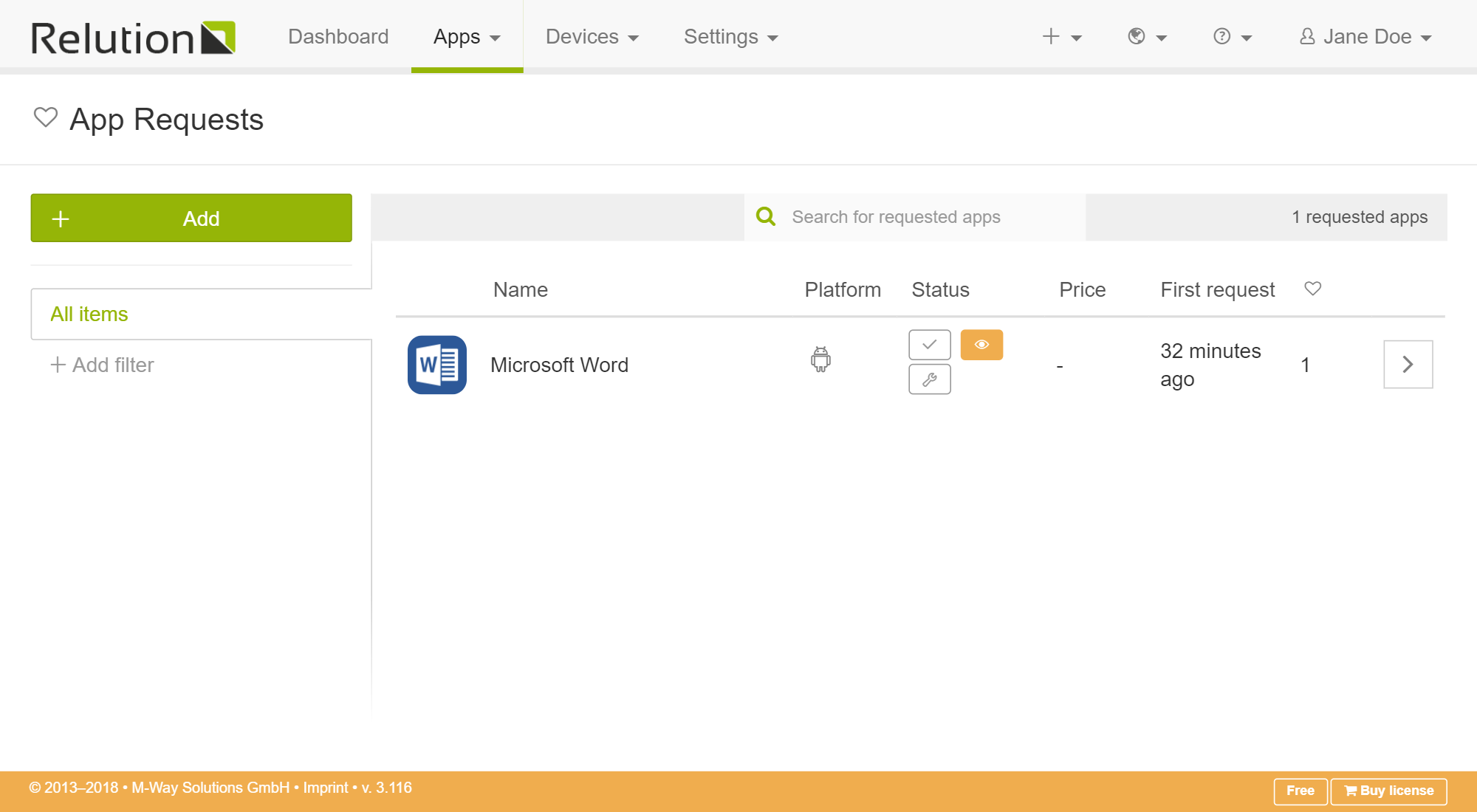 Select an app to view its detail page. By default, requested apps are in the "review" state and therefore are only visible to users that have the role "App Reviewer". You can however change the permissions required to view these apps by pressing the edit button for that status on the app's settings page.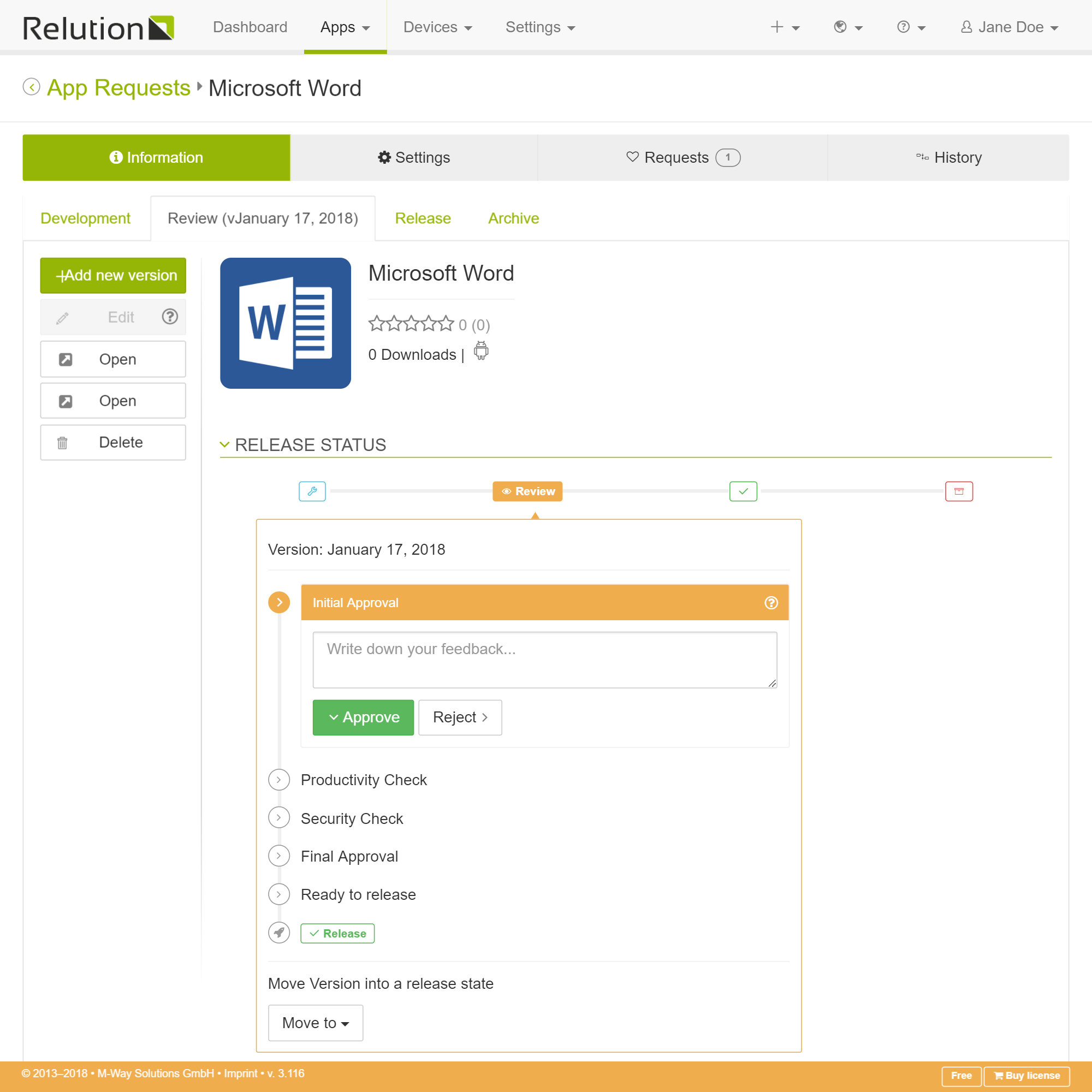 Click on the Requests tab to view all users who have requested the app and their comments.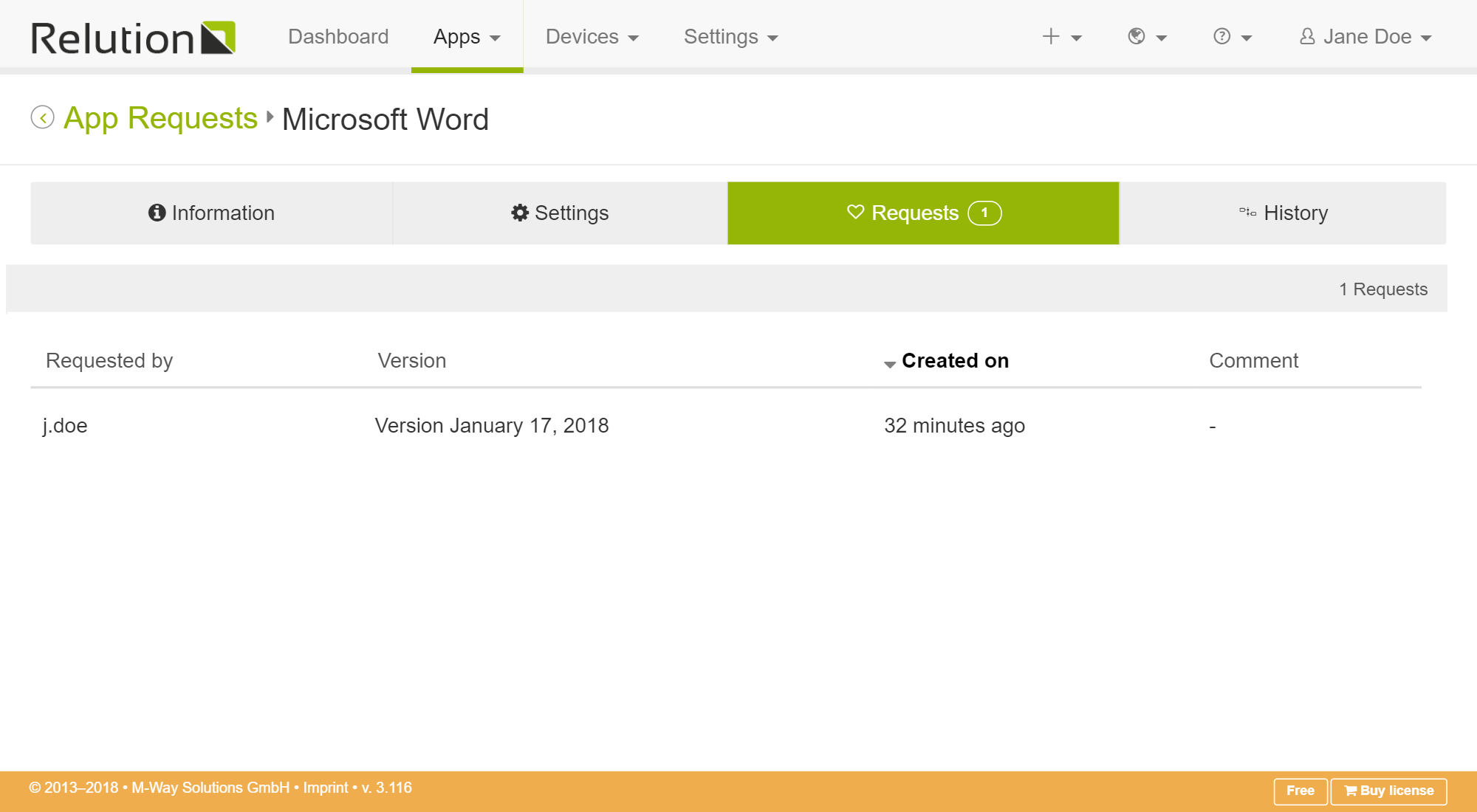 Approving and Rejecting App Requests
The workflow of approving and rejecting app requests depends on the App Release Workflow feature which can be configured in Settings > App Release Workflow.
Without App Release Workflow
If the review workflow feature is disabled you can approve an app by changing the app version from "Review" to "Release". This allows regular EAS users to see and download the application.
On the other hand, rejecting works similar. You can reject the app by moving its version from "Review" or any other state to "Archive". This will cause all future user requests to be added to this request. You could also delete the app but this will cause future requests to recreate the entry for the rejected app.
With App Release Workflow
The App Release Workflow is a seperate feature of Relution but can be used in combination with the App Request feature. Requested apps and their version have to pass a configured review process in order to become available to the Enterprise App Store.