tvOS policies
| | |
| --- | --- |
| | It is not possible to use iOS configurations for tvOS devices. Therefore, you must create a new policy for your Apple TV devices. |
For creating a new tvOS policy, hit the "Add" button in your policies section. Select the tvOS icon on the right in the shown window. Name your policy and click on "Save".
After that you can add serveral configurations to your policy.
AirPlay Security
You can select from which WiFi the user can connect to your tvOS device. The options here are "Devices on any WiFi network" and "Devices on the same Wi-Fi network".
Additionally you can select your security option. The available options here are: "First-time passcode", "Passcode" and "Password".
App compliance
One way to install an app using the app compliance configuration is to configure a whitelist and add the app to the "required apps".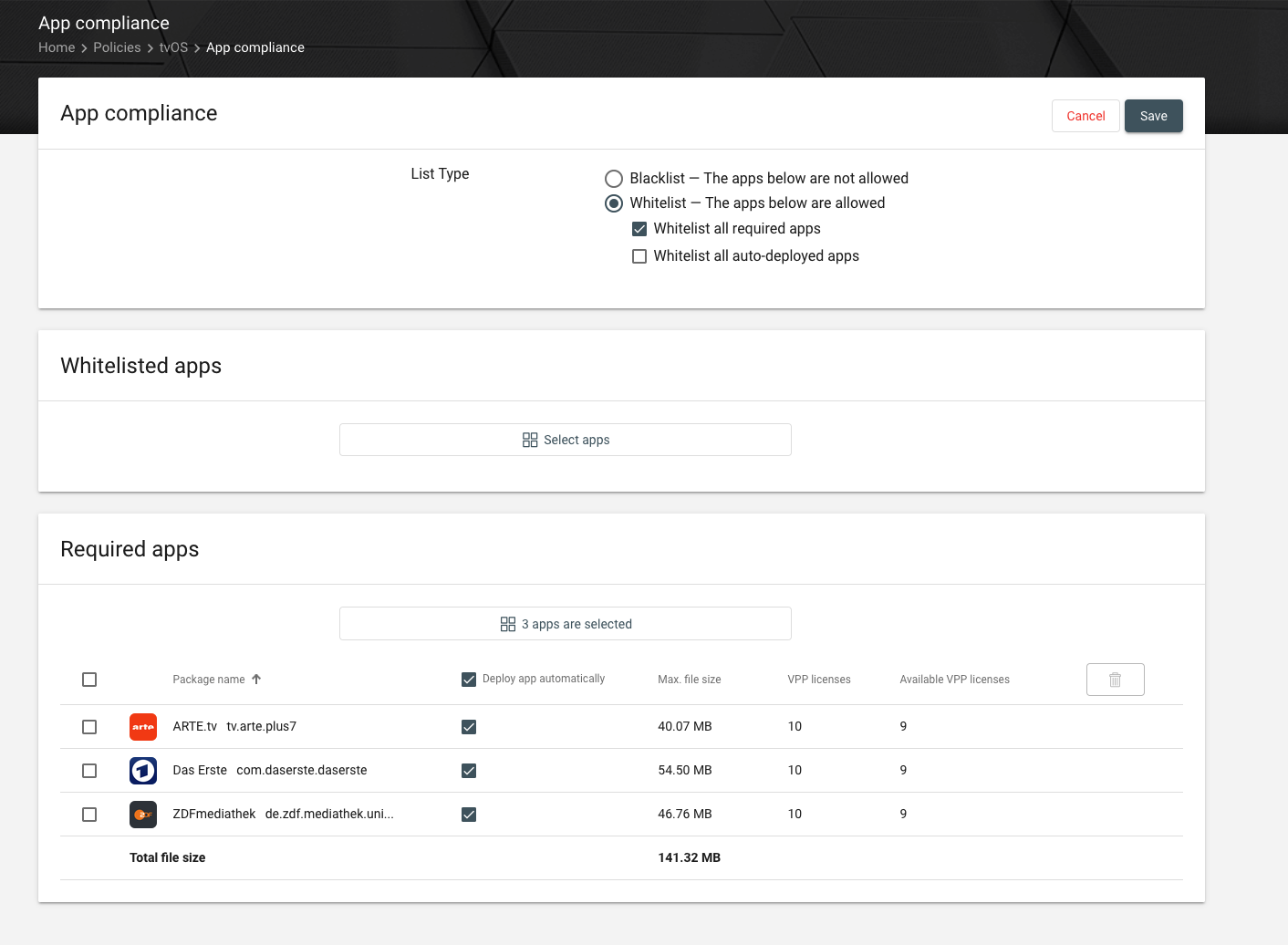 | | |
| --- | --- |
| | It is possible to use iOS apps on tvOS devices. If the app you installed is not compatible with tvOS, it will be installed, but it won't be visible on your device. Public apps without VPP licence or weblinks can not be installed on tvOS. |
Apple Configurator 2 configuration
It is possible to upload an Apple Configurator 2 configuration to your device with your Relution policy. Select the file you exported from the Apple Configurator 2 and save the configuration.
Add Certificate
You can add a certificate to your Apple TV. If you want to do this you have to add a certificate in the settings section. Just select the certificate and save your policy. Only PKCS1 and PKCS12 certificates are supported.
Conference room
In the conference room configuration, it is possible that you enter a message which is shown on your TV screen. If this configuration is active, it is not possible to make any video streaming on the device. It is only possible to youse the device for AirPlay connections.
Restrictions
You can configure several restrictions. In the first section you can configure the system preferences. In the second section you can configure the age restrictions.
System Updates
Here you can configure the system updates. You can choose, if your device should just download system updates, or if it should download and install the updates. Additionally it is possible to select the update time.
| | |
| --- | --- |
| | Every operating system update must be started manually. The background is that your device should not restart and perform an update while you are using it. |